Past Reviews
If you are looking for a highly entertaining and professional group of performers, look no further than Hysteria Machines! Not only were we laughing frequently, but the show they put together was top quality! We wouldn't hesitate to recommend them to any organization wanting a creative and professional group to take their event to the next level! Give them any character roles and they will knock them out of the park. We are looking forward to working with them again to create a memorable and successful impression for our audience."
Angela Seckinger,
CONjuration, CO-Founder
---
I was standing all the way in the back the whole time and enjoyed every minute of it!
Ferrell
CONjuration
---
I just got home from watching your 11:30 show on Saturday, and I was truly amazed. My first ever burlesque show combined with one of my nerdy loves just blew me away entirely. As a vocalist and a lover of the arts I will definitely come and watch again. Thank you all so much for providing this service to the community and I wish everyone the greatest of success and fun with it. Again thank you!!!
Cory
Sexpelliarmus II
---
I saw. I loved. I wanted more! Sexpelliarmus at Atlanta Shakespeare Company was even more magical than the first rendition. So many show stopping numbers! So much talent on one stage, I could barely believe my eyes. Mischief was managed, achieved, and sassified. Hysteria Machines know how to put on show and bring down the house, whether it was Griffindor, Ravenclaw, Hufflepuff, or Slytherin. 100 points to all of the houses for rapping, dancing and making the world of Harry Potter sexier than it has ever been.
Stephanie
Sexpelliarmus II
---
"The whole show was amazing, but the Beauxbatons were my favorite. A little nice, a little naughty, then throw in the madame.......perfection."
Kari
CONjuration
Booking Info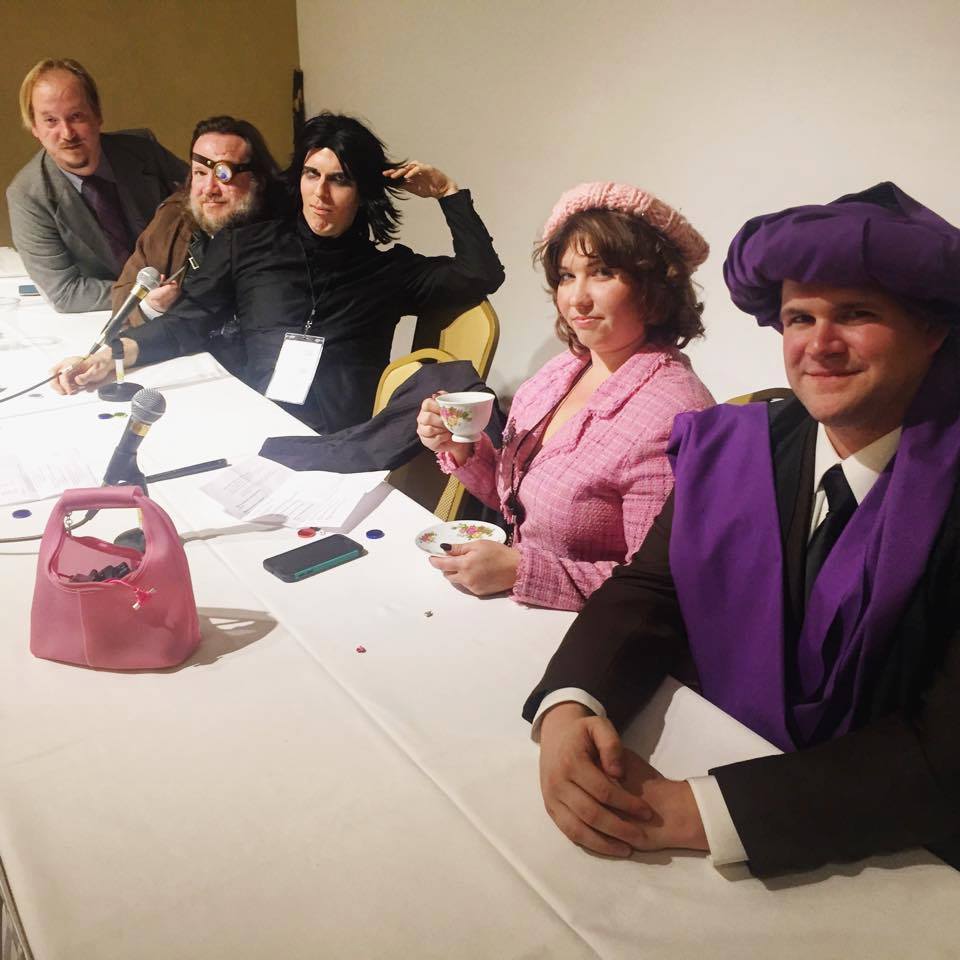 The professionals at Sexpelliarmus specialize in thematic, immersive, environmental entertainment! Whether it's your child's birthday party (we excel in family-friendly, high energy, character oriented performance), a special adult gathering (burlesque, anyone?), or an entire CONVENTION (parties, panels, and shows all in character!), we are here to bring you the best in themed curated events.
PACKAGES CAN INCLUDE....
Highly produced props, all in the HP universe, including floating candles, the Owl Lectern, potions, mandrakes, etc.
Curated playlists, including nerdy music, dance music, and music from all eras, tailored to your specific needs
A cast of trained and practice professionals, donning high-quality costumes, and carefully curated characterizations of your favorite HP characters
And MORE!
Contact us today to put together your special event!